Now the time has come to put the law down, since people all over the net and verbally have been nailing Nintendo's new generation console and saying they should stick to game creation and not console development.
I personally think these statements are hogwash and most likely from Sony or Xbox fanboys. Did Nintendo not first introduce us to the first 3D without glasses product with the 3DS and let's not forget the first gaming console and they were the only one to do so. Did they not also introduce us to the next generation of gaming by introducing the first tablet remote that works very well, as well as delivering similar and in some cases superior graphics to the current gen consoles in a smaller design. Sure they did have some bumps in the road with their slow OS which I assure you they have rectified now. Sure, I do agree in some cases people are complaining about lack of titles but as you will find in this article that this is coming to an end very soon. I also don't agree with statements saying they must stop reproducing last years hit titles such as Mass Effect 3. I think this is a smart move by Nintendo because it gives people who bought the Wii U the chance to play those titles if it's the only console they have or if they never bought the title on a previous platform. Now don't take me as a Nintendo fanboy for this it not what I am. I enjoy all the developer's consoles and what they offer and all 3 developers have their merits and their disasters. All this bullying is so unnecessary. It's time people started being more open minded and fresher.
Now,  I am using this article to prove that Nintendo is far from rolling over and giving into bullying fanboys and they are continuing by delivering what the console was made for. This may shock some people, but they made it for "Gaming". Now,  now don't fall off your chair and die that a gaming console was actually made for gaming. Sadly, the next gen consoles have forgotten this to a degree with their pay to play online nonsense and silly TV add-ons. Nintendo hasn't let us down though, they let us play online for free and we can use their social "Miiverse" for free, which integrates quite well into the consoles package. The Wiipad remote introduced some really cool features such as in the case of "ZombiU" where your backpack is displayed on the remote's built in screen, and Ubisoft used this to deliver a scary thrill that when you're digging in the backpack the game does not pause and will leave you vulnerable to a zombie attack giving the game a fast paced gameplay.
The following advert will show some key points of the Wii U.
So  lets look back at what Wii U, on its own,  has brought us in the last year up to now:
Family Party: 30 Great Games Obstacle Arcade
Trine 2: Director's Cut
Tank! Tank! Tank!
Nintendo Land
New Super Mario Bros. U
New Super Luigi U
LEGO City Undercover
Game & Wario
Pikmin 3
The Wonderful 101 (August 23rd)
Rabbids Land
Sports Connection
ZombiU
Rayman Legends (was to be an exclusive but changed hence the delay in release)
Scribblenauts Unlimited
Game Party Champions
Now from my count this is 15 exclusive Nintendo games we have received in the year Wii U been out, now I don't know if it is just me but isn't that more than 2 games a month? Neither of the Sony or Xbox exclusive titles were that many in that amount of time and I haven't even mentioned the online store games. Sure, the Sony PS3 and Xbox 360 have quite a lot of exclusives by now,  but they've been around for how long hmm??
Now lets dip into the what Nintendo is bringing us between 2013/2014 from themselves and third party games:
Exclusives:
Bayonetta 2
Donkey Kong Country: Tropical Freeze
Dragon Quest X: Mezameshi Itsutsu no Shuzoku Online
Mario & Sonic at the Sochi 2014 Olympic Winter Games
Mario Kart 8
Shin Megami Tensei X Fire Emblem
Super Mario 3D World
Sonic Lost World
Super Smash Bros. for Wii U
The Legend of Zelda: The Wind Waker HD
New Zelda Title For 2014
X
Yarn Yoshi
Pokemon Rumble U
Third Part Tiles:
Adventure Time: Explore the Dungeon Because I Don't Know!
Angry Birds Trilogy
Angry Birds Star Wars
Batman: Arkham Origins
Call of Duty: Ghosts
Deus Ex: Human Revolution Director's Cut
Disney Infinity
F1 Race Stars
Just Dance 2014
Lego Marvel Super Heroes
Monster Hunter Frontier Online
Project CARS (Community Assisted Racing Simulator)
Sacrilegium
Sniper Elite V3
SpongeBob SquarePants: Plankton's Robotic Revenge
The Lego Movie Videogame
Tom Clancy's Splinter Cell: Blacklist
Turbo Super Stunt Squad
Watch Dogs
Yakuza 1 & 2 HD
Young Justice: Legacy
Pac-man and the Ghostly Adventures
Scribblenauts Unmasked: A DC Comics Adventure
So let's sum up the upcoming games:
Exclusives: 14
Third Party: 23
Total Count: 37
Wow! 37 new games coming and this is only what has been announced and excludes online games. There will be more games announced during 2013/2014. Now you see the Wii U is not lacking in games and I do not believe as some have stated that Nintendo is doomed. People just get off your high horses and enjoy what our gaming generation is given and stop slandering one of  the grandfather console gaming (or in South Africa "TV Games") companies. Please support each platform, if you can don't go and alienate a platform just cause stupid fan boys are picking on it. Go to a BT games store and actually play a Wii U, go see how some new titles are way cheaper than there other platform counterparts, think practically… AND MOST OF ALL LOOK AT HOW WII U HAS INFLUENCED THE PS4 AND XBOX ONE! Did you not find it odd that all of a sudden the PS Vita quickly got implemented into the PS4 as a tablet remote and as off screen play and that Xbox 360 and Xbox One implemented smart glass which applies similar features a few months after Nintendo announced the Wii U? It was to keep with the Wii U! All of this aside if you are looking at getting a console that is fun and innovative, the  Wii U is "your man", and if you want to stick to what you know, as in Sony or Xbox then by all means do, they make awesome consoles, but stop and think before you start nailing another platform because you think it makes you look clever, cool or whatever it does for you because in the end you are making a fool of yourself. Let's not forget the Wii U also gives you access to all previous Wii titles as well as the Virtual Console content on the store but that is for another time.
I would like to hear any comments to this article so feel free to comment if you choose to but please keep your comments civil and do not troll other peoples comments.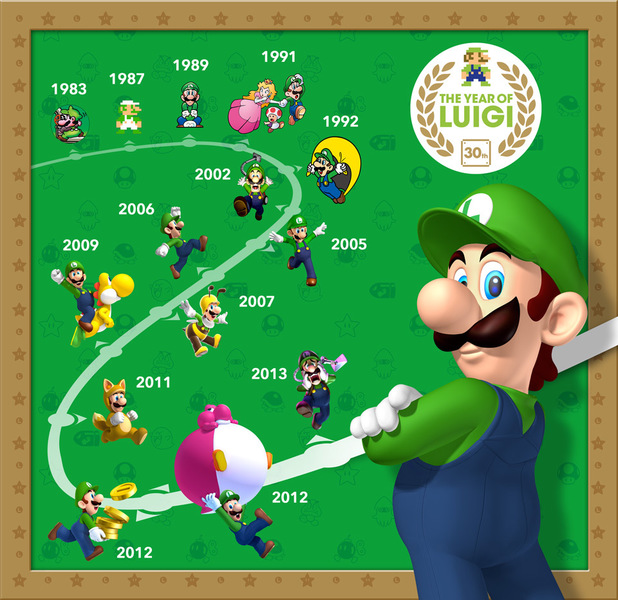 JUST A REMINDER IT IS THE YEAR OF LUIGI, GONNA BE A AWESOME YEAR!
This Is SSupertramp Signing Off saying:
Keep Being A Passionate Gamer